A Brief History of Phi Kappa Psi
Founded over 150 years ago, Phi Psi boasts a rich history at many of the nation's top colleges and universities.
William H. Letterman and Charles P.T. Moore founded Phi Kappa Psi in the little college town of Canonsburg, Pennsylvania, when they were nursing their stricken friends during an epidemic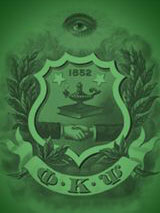 of typhoid fever at their college. It was through these long night vigils that an appreciation of the great joy of serving others came into their lives.
Calling a number of others to join them, a Brotherhood was founded on February 19, 1852. It flourished, and gradually extended to other colleges and universities throughout the country. Idealists all, these founders of Phi Kappa Psi taught a new fraternity - a Fraternity that would complement the work of the university by cultivating those humanities without which the educated man fails of his greatest usefulness.
At the time of our founding, Jefferson College was considered one of the "Big Three" in what was known as the "Jeffersonian Cradle." The other two institutions comprising this group, Harvard and Princeton, were of very nearly equal size and equal high esteem. These institutions all graduated predominantly ministers, lawyers and physicians from an academic curricula based in classical literature, religious doctrine and basic sciences.
Phi Kappa Psi recognizes the need and value of the best and broadest education possible and encourages that goal within our membership. But unless actuated by a proper love for and service to mankind, the educated man may often waste his talents. It is to counteract this tendency that Phi Kappa Psi was founded to encourage the best in men, to inspire and assist them to reach their potential as students, brothers, men and citizens.